CMNI look back on a memorable gig, when Brett Young, Kelsea Ballerini and Lady Antebellum hit the stage of Dublin's 3Arena…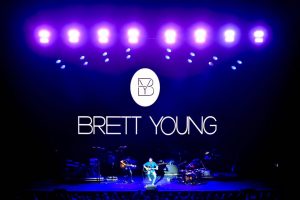 On a crisp autumn evening, people turned out in their droves to see some of country's biggest stars.
To warm up the Dublin crowd, Brett Young was first up! Playing a mainly acoustic set, he wowed the crowd with his stunning voice, as well as his Californian charm. Playing hits such as "Sleep Without You", "In Case You Didn't Know" and "Like I Loved You", the crowd lapped up Young's melodies and humour. Brett Young is an act to watch out for!
Up next was rising star Kelsea Ballerini. Within the last two years Ballerini has risen to prominence, hosting events such as CMA Fest, and making a ton of hits. Singing the likes of "Unapologetically", "Dibs" and "Yeah Boy", Ballerini grabbed the audience's attention with her energy on stage. The crowd lapped up her song "XO", whilst new song "I Hate Love Songs" was a big hit with us at Country Music NI! Despite some sound issues, Ballerini was a hit with the crowd – no doubt her newly made fans will want to see her again when she returns to Dublin for Country2Country 2018!
Finally, the moment the crowd had been waiting for had arrived! Lady Antebellum, comprising of Charles Kelley, Hillary Scott and Dave Haywood burst onto the stage, singing a range of old and new songs! Recent hits "Heartbreak" and "This City" were a clear hit with the crowd, whilst their band energetically bounced around the stage, lapping up the crowd's energy.
Scott's melodies coupled with Kelley's soulful voice and Haywood's musical ability was a highlight of the show, as their clear chemistry kept the crowd loud and energetic.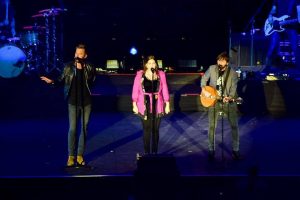 Reflecting on their European and UK tour, the experience clearly humbled Kelley, stating that he believed that European fans were "the most appreciative" of their music. Later, a special moment took place, when Kelley lead the audience to a rendition of "Lean On Me" in memory of the Las Vegas terror attack which took place at the beginning of the week. Scott stated afterwards that she would "carry that memory for long time", whilst Kelley reflected that music and gigs should be a place "to escape all that" horror.
Another highlight of the performance was a lovely rendition of Shania Twain's "You're Still the One", along with support acts Brett Young and Kelsea Ballerini. See below!
After a loud encore, the band returned to the stage to sing their hit "Need You Now", as well as a rendition of Tom Petty's "Learning to Fly", in memory of the star who has had such an influence on today's country music. The band finished this memorable gig by carrying it on out to crowd, mixing with those lucky enough to have picked standing tickets!
All in all it was a memorable gig – let's hope they make a return to Ireland very soon!