Tony Wright (Terrorvision) & Ryan Hamilton (The Traitors) have shared the music video for the lead single from their forthcoming collaborative album 'Grand Ole Otley' – out June 8th – their version of the Don Gibson classic later recorded by Johnny Cash among others, 'Oh, Lonesome Me', which has also received airplay at Americana radio and been highlighted as one of Classic Rock / Louder's Tracks of the Week, among other early coverage for the release.
After being introduced by producer Dave Draper, Wright & Hamilton's shared love of 'good music' led to talk of an album re-imagining country standards and more obscure songs from way back in the archives. The resulting album, 'Grand Old Otley', is a heady mix of country, Americana and folk and is likely to prove much darker at times that could be expected from a pair notorious for their wise-cracking.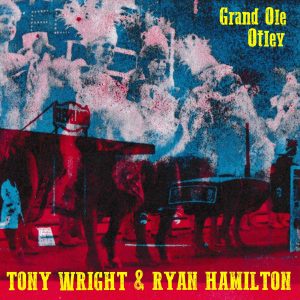 The pair take the album on the road for a short string of intimate shows in June (a few tickets remaining for each date) – celebrating the official release at London's beautiful St Pancras Old Church on Friday June 8th. The album is available to pre-order on iTunes now (here) and physical copies of the album will be available at each date:
6th June – Parish, Huddersfield
7th June – Gullivers, Manchester
8th June – St Pancras Old Church, London
9th June – Bodega, Nottingham
10th June – Prohibition Caberet Bar, Gateshead
Tickets & info from http://tonywrightandryanhamilton.com/
ABOUT RYAN HAMILTON:
Born and bred in Texas, Ryan Hamilton was raised on a staple diet of the music of Willie Nelson, Johnny Cash and Dwight Yoakam. Ryan's former band Smile Smile achieved success in North America and Canada largely through the song/album Truth on Tape, touring with the likes of Ryan Adams and Loretta Lynn.
The band People On Vacation followed, which introduced Ryan to the UK for the first time, his UK touring band mates on that project then joining him to ultimately form the rock/Americana combo – Ryan Hamilton and the Traitors, who have received the seal of approval from none other than Little Steven Van Zandt. Ryan is preparing to record a second album with the Traitors after the critical success of debut, The Devil's In The Detail.
ABOUT TONY WRIGHT:
Tony Wright hails from deepest Yorkshire and has fronted Terrorvision since the 1990s. Well known for his quick-witted appearances on TV's Never Mind The Buzzcocks, Tony is currently back on the road with Terrorvision for the Britrock Must Be Destroyed tour joint headlining with the Wildhearts and Reef.
Having released two solo albums under his own name and a brace as Laika Dog (named after the first animal to orbit the Earth), Tony has also turned his hand to screenprinting and building dry stone walls.
'Grand Ole Otley' is out 8th June 2018 & available to pre-order now.
SOCIAL MEDIA:
Tony Wright: https://twitter.com/LaikaTone
Ryan Hamilton: https://twitter.com/TraitorRyan
https://www.facebook.com/TonyWrightandRyanHamilton