The opening night of C2C had a promising line up, from rising star Luke Combs, a UK favourite Kip Moore, the reunion of hit band Sugarland, as well as Texan star Kacey Musgraves.
Luke Combs opened the star-studded line-up, packing the 3Arena in Dublin with energy for the night ahead. Highlights of his set included his hits When It Rains It Pours and Hurricane. One of the best moments of his set was his performance of Honky Tonk Highway, as well as following through with "Take it Easy" by the Eagles, getting the crowd going. Luke Combs is something else, and we hope that he will add an Irish date onto his UK tour in October this year!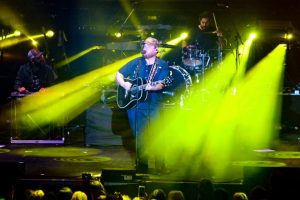 Next up was fan favourite Kip Moore. After stunning the Irish crowds at Harvest Country Music Festival last year, we couldn't wait to see his set – and he did not disappoint! He played a great range of his songs, from the classic "Beer Money" right through to some of his recent "Slowheart" songs, such as "Just Another Girl". Kip Moore used a mix of the old and new to get the crowd pumping, especially during his hit "Somethin' Bout A Truck".
His closing number "Guitar Man" off his new record "Slowheart" was the highlight for us – playing acoustically, Moore showed his honesty behind the song, as well as his skills as both a guitarist and singer. Moore was clearly thankful for the crowd singing along to this album cut, declaring that he would hope to be back in Ireland very soon!
Newly reformed band Sugarland (Jennifer Nettles and Kristian Bush) were the third act of the night. Whilst many C2C concert-goers were not completely familiar with their songs, Sugarland still performed well, using hit songs such as "Stuck Like Glue" and "Settling In" to get the crowd going. It was their first show in 5 years, and they can only go up from there!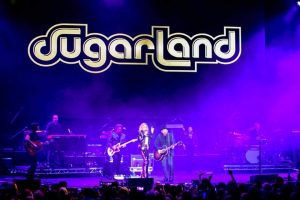 Last up was headliner Kacey Musgraves. Whilst many questioned Musgraves being giving the headlining slot, we had high hopes for her performance. However, on the night, we fear that these questions may have been justified. Musgraves performed well musically, displaying her great vocals, backed by an equally great band. However, much of the performance did not carry the same energy the last three acts had mustered, and by the fifth song in, the arena crowd had begun to shrink.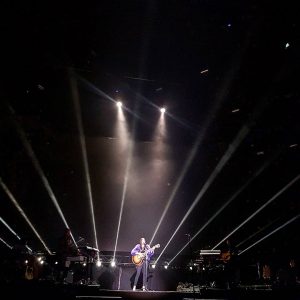 Highlights of her performance included "Follow Your Arrow" and "Merry Go Round", as well as "Mama's Broken Heart" (which she co-wrote for Miranda Lambert). However, what really took away from her performance was the amount of new songs that she sang. Whilst any Musgraves fans (including ourselves!) are looking forward to her new album, much of the crowd seemed to be unsure of her new songs, leading to energy levels dissipating.
Whilst the first night of C2C looked promising, the programming of the event sadly took away from the festival – let's hope the next two nights will have made up for it!