Just seven days to go and a very limited amount of seated tickets left, Farmers Bash 2018 is set to be even bigger than last year! With a special lineup of Ireland's best country stars and even the Rednex (Cotton Eyed Joe) joining in on the fun, if you're a local country fan, it's a night not to be missed. Below we want to look at who is taking part and what you can expect from the night!
Why Farmers Bash?
"Over the past 5 years the phenomenon of country music has swept rural Northern Ireland off its feet with a whole new audience of all ages being introduced to, what is quickly becoming, a new culture in its own merit. Seven days a week, 365 days a year, 1000s of people pack out venues all over the UK & Ireland to see their favorite country music star, sing along to some of the best known country music tunes, and take part in the art of country jiving." – Farmers Bash HQ
It's pretty clear by their statement. that Country Music is here, it's now and you better jump on board the country music party bus….erm trailer while there's room!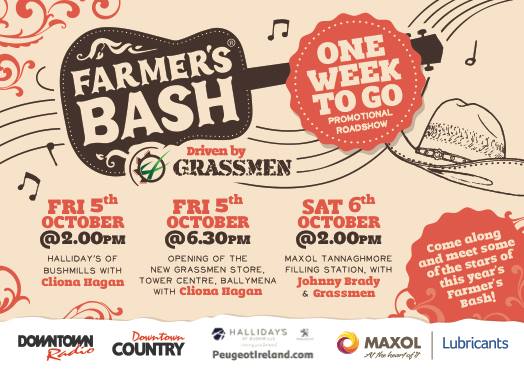 Who's taking part this year?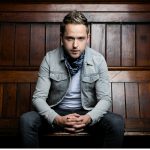 Derek Ryan
Born in Garyhill, Co. Carlow he was first bought a drum kit for Christmas just aged four! He lists influences such as Garth Brooks, Alan Jackson and George Strait as having a big impact in his musical tastes, they were favorites of his Mothers and listened to them a lot growing up.
After finding uk top ten success and a Chinese Number One  in pop band D-Side in the early 2000s he embarked on a solo career that started off by cutting his teeth in the club and bar circuit in London.
Skip to 2010 and God's plan, and as they say the rest is history! Derek has worked hard but has now found himself at the very top of Irish Country, packing out venues and dances island wide.
Lisa McHugh
With her parent's love for country music, Lisa was introduced to the scene at a young age. She grew up listening to everything from Daniel O' Donnell to Alan Jackson and with a huge passion for music, Lisa quickly learned how to play guitar and began singing. With her talent growing each day and immense drive and determination, Lisa's ambition to pursue a career in country music grew and in June 2010 she left her job in her dad's construction business and moved to Ireland.

Lisa took a leap of faith and made the move across the Irish Sea aged just 22. She came to prominence after entering an Irish TV talent show Glór Tíre and it wasn't long before her band was formed and she began touring the country, the glamorous Glaswegian hasn't looked back since. Now with a crew of 10 and a show that has scores of people dancing all night long, Lisa is certainly living the dream.
Johnny Brady
Johnny who hails from Antrim has been touring extensively throughout Ireland & the UK over the past five years and has built a reputation for having one of the finest dance bands on the Irish country music scene.  Johnny is also famous for 'turning it up a notch', drawing on his many Rock and Pop influences, making him a 'man in demand' on the Festival circuit!
Johnny has recorded 4 albums to date, each one a true testament to his diversity as an artist, showcasing his passion for songwriting and his ability to resurrect old classic country songs and make them his own.  Two years ago Johnny signed a publishing deal with Bardis Music who recognised his songwriting ability and as a result Johnny has made numerous trips to Nashville to both write & record and his songs have been pitched to some of the world's biggest country stars!  "It's amazing to think that a lot of the artists that I listen to are now listening to my songs"
Cliona Hagan
This young lady from Co. Tyrone hasn't wasted any time.  Cliona and her Band launched May 2016 under the guiding light of Manager Aidan Quinn (son of Philomena Begley).  Since the launch Cliona has not only played to her own packed audiences but also toured with some of the industries greats from Philomena Begley to Nathan Carter. When it has come to the studio she's also done rather well. Releasing ten hit singles, including We're All Gonna Die Some Day, The Cowboy Yodel Song and a duet with Michael English 'Crazy Over You'. The first studio Album released October 2016 by Sharpe Music,  'Straight To You'  featured fourteen tracks that will take you through the full spectrum of emotions, a must have for any true connoisseur of country music.
The hard work, long hours and dedication to her craft paid off as Cliona was nominated and won a host of 2016 awards in her first year.  These included RTÉ's Irish Country Music Awards (ICMA) Best Newcomer, Irish Country Music Radio Newcomer, Tip FM Newcomer, Leinster Entertainment Newcomer, Mid Ulster District Council Civic Award in Recognition of Achievement in Arts and Music, Irish TV Best Newcomer.  In 2017 she was named Hot Country Most Promising New Act and this singing sensation has now been named Female Vocalist of the Year at the prestigious Irish Post Awards.
Philomena Begley
Described as the Queen of Irish Country, Philomena is no stranger to Irish Country having spent 56 years so far involved in music. "It was through the music of Hank Williams. We would listen to the American Forces Network (AFN) on our way home from dances in the wee small hours too and also had an album of Hank's songs. It was a big change because you could be excommunicated from the Catholic Church for doing some of the slow Country songs which we started playing in the 1960s and 1970s. To be honest I though we would be barred out of some dancehalls forever because we played slow fox-trots and some tunes for jiving – it was almost a sacrilege to do so at that time."
During 1975 Philomena joined forces with Irish singer Ray Lynam and later won the award as Europe's Top Country Duo at the prestigious Wembley International Country Festival. One of their best duets "My Elusive Dreams" was a huge Irish hit and was name checked in the Shane McGowan penned song by the Pogues "A Pair Of Brown Eyes". Philomena also had an Irish number one with her unforgettable rendition of "Blanket On The Ground"
She has recorded over twenty-five albums and the best of them are available in these four 2CD compilations. Taking from first beginnings in "Village in County Tyrone", to leading her own showband in "Once Around the Dance Floor", and further successes with the folk-tinged"Red Is The Rose" and big productions of "The Way Old Friends Do" you will hear all the best of Philomena's recordings from 1968 to 2004, remastered for the first time for CD.  Throughout her recording career Philomena has wrung every ounce of emotion out of the lyrics and it  was noted in the March 2004 edition of  Europe's biggest selling Country music magazine' Country Music People, that she's lost none of her vocal power and command of a Country lyric.
Rednex
Rednex is one of very few artists that has lasted on the charts for 15 years and sold more than 10 million records thanks to a dozen Top 10 hits. The project was created by fluke in 1992 and literally exploded into fame in 1994 just days after its first release – "Cotton Eye Joe". It became a massive hit, went to No.1 at record speed in 15 countries and is today a party classic which has sent the band repeatedly touring the world.
The follow-up releases also achieved significant success, including 4 other million-selling releases, and led to Rednex, for example, spending more weeks (25) at top of the German singles chart than any other act of the last 30 years, thanks to hits such as "Wish You Were Here" and "Spirit Of The Hawk".
Being alone in their own unique and homemade genre has also made them popular in other media as they have been featured with various songs in 3 major Hollywood-productions and 3 high-profile nationwide TV-commercials, all within in the last 15 years.
Who are the Grassmen?
Well country music and farming go hand in hand! Like onions in yer burger, sugar in yer tea…hmm that sounds like a song!
The Grassmen to quote their website are a "dynamic and fresh approach to agricultural entertainment."
The company founders are keen cameramen as well as drivers and decided to experiment with a video camera from the corner of a field. The footage was uploaded onto Youtube, and to the teams surprise a large following soon developed.
Being tractor enthusiasts themselves and having spent many hours behind the wheel, the team wanted to take the style they had used on YouTube to the next level.  The only option was to get more input from the men on the job, so they called in favours from local contractors who provided the question and answer style narration as Gareth conducted a 'one-take' interview – hence they gave some very honest and unscripted answers.
The Grassmen have went from strength to strength and are big on charity having raised thousands upon thousands for charities far and wide.