Last night some of the best in Irish Country Music descended on the big smoke to officially kick off the run up to th Farmers Bash 2019. The foyer of Belfast's huge SSE arena normally packed for pop events was filled by the strumming of guitars and gentle tones of Johnny Brady and Derek Ryan.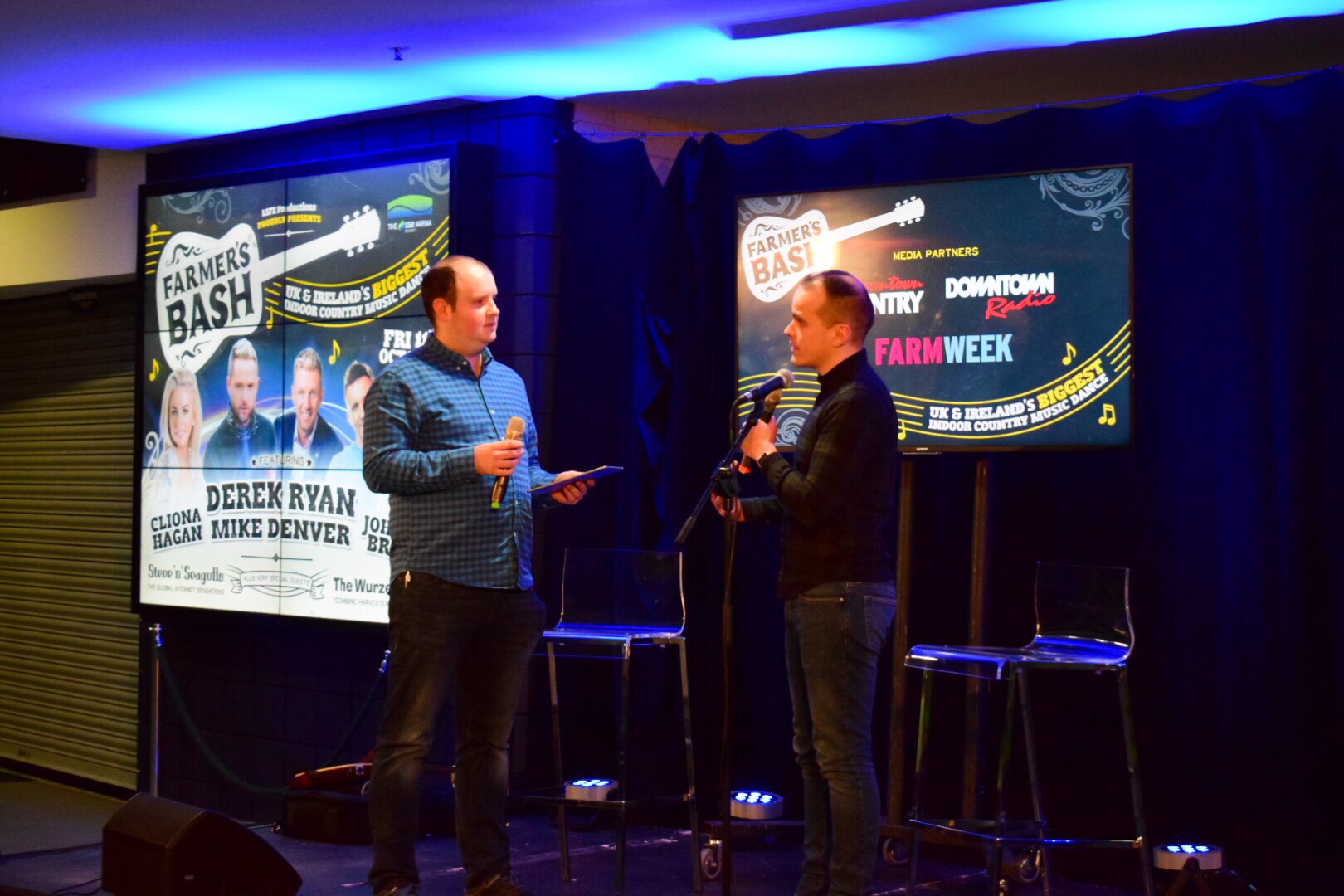 Downtown Country's David McCammond compared the event interviewing the various entities involved in the event, kicking off with Nigel Campbell the guy behind the event. Who said the event had went from strength to strength and was the pinnacle of the Irish country music calendar.
The Young Farmers Clubs of Ulster were also represented at the event with a delegation of over 50 young people from across the Provence. The organisation celebrates 90 years this year and will be getting involved with the Farmers Bash this year, although they kept their lips sealed on what exactly this will be.
Irish Country Icons Derek Ryan and Johnny Brady were also on hand to bring some musical highlights to the launch and as always, didn't disappoint. Brady took to the stage first, borrowing the guitar from Derek singing a piece he penned himself and he dedicated to the Young Farmers on their quest for love!
He was followed on stage by Derek Ryan who sang a small medley of some of his biggest hits to date.
As well as Derek and Johnny, the night itself will also feature Cliona Hagan, Mike Denver, The Wurzels and Steve 'N' Seagulls
One thing for sure is that the Farmers Bash will not disappoint. It's a night for all the family blending the traditional Irish Country dance and jive night with the arena concerts we've all been to. Standing and seated tickets are still available but are limited. Tickets are available through all usual outlets including ticketmaster.ie
LSFX are the guys behind the production and that's what adds to the night. No where else do you get the same effort put into an Irish country gig and that alone makes the night worth attending. From sound, lighting, special effects and video, they do a superb job. Check out last year's highlights below.
This year's concert takes place on Friday 11th October 2019