Blackbird Presents is proud to announce the worldwide CD/DVD release of Sing Me Back Home: The Music Of Merle Haggard. The concert event was a one-night only gathering of artists that joined together at Nashville's Bridgestone Arena to honor the songs of music legend Merle Haggard. Blackbird Presents / Caroline Records will release the full-length concert film as a CD/DVD combo, which is available for immediate preorder at http://musicofmerle.com.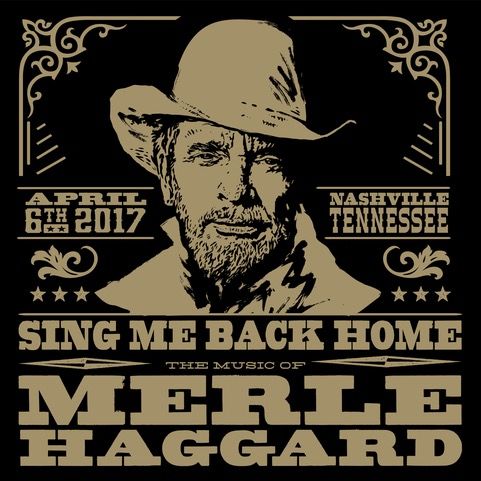 Sing Me Back Home: The Music Of Merle Haggard features captivating performances by Alabama, Ben Haggard, Billy F Gibbons, Bobby Bare, Buddy Miller, Chris Janson, Connie Smith, Dierks Bentley, Hank Williams Jr., Jake Owen, Jamey Johnson, John Anderson, John Mellencamp, Kacey Musgraves, Keith Richards, Kenny Chesney, Aaron Lewis, Loretta Lynn, Lucinda Williams, Lynyrd Skynyrd, Miranda Lambert, Rodney Crowell, Ronnie Dunn, Sheryl Crow, Tanya Tucker, The Avett Brothers, Toby Keith, Warren Haynes, and Willie Nelson.

Performance highlights include, "Mama Tried" (performed by The Avett Brothers), "If We Make It Through December" (Performed by Dierks Bentley), "Misery and Gin" (Performed by Miranda Lambert), "Ramblin' Fever" (Performed by Toby Keith and Willie Nelson), a very special performance of "Sing Me Back Home" (performed by Keith Richards), and an all-star ensemble performance of "Okie From Muskogee".

Keith Wortman, Mark Rothbaum and Theresa Haggard are the creators and executive producers of the show. Don Was, Ben Haggard and Buddy Cannon served as music directors.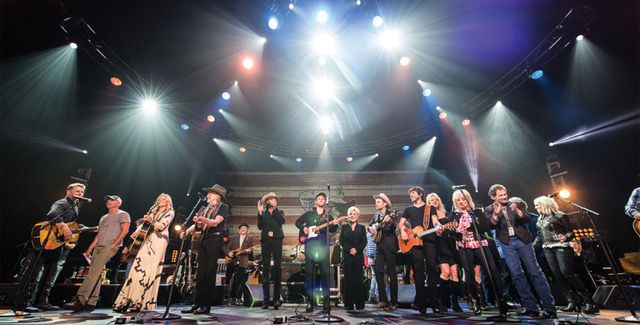 FOR COMPLETE DETAILS VISIT THE OFFICIAL WEBSITE:
http://musicofmerle.com
About Merle Haggard:
In a career that spanned more than 50 years, Merle Haggard racked up an astounding 38 number-one country hits and every major award imaginable. Songs like "Mama Tried," "Okie From Muskogee," "I'm A Lonesome Fugitive" and "The Fightin' Side Of Me" continue to inspire new generations of artists and fans alike. He was an iconoclast who refused to bend to country music convention and helped create the indelible Bakersfield sound. He gave voice to outlaws and outsiders and in a way that few, if any, have ever equaled.

About Blackbird Presents:
Blackbird Presents is a leading global media company that creates and produces premium, music-driven, events and content via a range of strategies including all-star concert events, tours, festivals, broadcast specials, episodic series, and documentaries.
Recent concerts, broadcast specials and releases include "Willie: Life & Songs Of An American Outlaw," "All In For The Gambler: Kenny Rogers' Farewell Concert Celebration," "Sing Me Back Home: The Music of Merle Haggard," "The Life & Songs of Kris Kristofferson," "Imagine: John Lennon 75th Birthday Concert," "Outlaw: Celebrating The Music of Waylon Jennings," "I'll Take You There: Celebrating 75 Years of Mavis Staples," "The Life and Songs of Emmylou Harris," "Lynyrd Skynyrd: One More For The Fans," "The Musical Mojo of Dr. John: Celebrating Mac and His Music" and "All My Friends: Celebrating The Songs and Voice of Gregg Allman," the last of which earned a 2014 GRAMMY® Award nomination for Gregg Allman and Taj Mahal's awe-inspiring performance of "Statesboro Blues." Blackbird Presents is also the creator and producer of The Outlaw Music Festival Tour, in partnership with Willie Nelson; The American Roots Music & Arts Festival, in partnership with Eric Church; and The Last Waltz 40 Tour in partnership with Robbie Robertson.
Learn more at www.blackbirdpresents.com.
Pre-Order:
http://musicofmerle.com