After the success of 'Jekyll and Hyde' in 2015, which featured the recently departed Chris Cornell as well as other genre-bending anthems, Zac Brown Band launched their 5th studio album, "Welcome Home" last month. Since then, it has crowned Country chart albums on both sides of the Atlantic and is the current number 1 album on the UK Official Country Album Charts. We take a look at the album and its highlights…
Opening with homegrown-belter 'Roots', this album is a notable move back to the band's roots musically. The song reminisces about the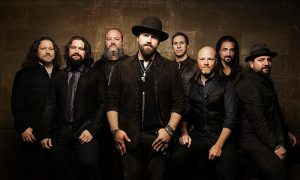 band's origins, and the early lives of the band's members. It provides an ultimate message of how their origins remind them of where they have come from through to the award-winning band that they have become.
'Real Thing', '2 places at 1 time' and 'Your Majesty' certainly move back to the band's original material. With classic harmonies and guitar licks, the songs tell the story of genuine love as well as the yearning of home. This theme of 'Home' features heavily throughout this album, and fits well with the 'roots' narrative portrayed by the band in recent times.
This album's third track is a soul-inspired love song about the 'Long Haul' of committed relationships. With the backing of violins and soul-infused guitar, this song is definitely a highlight for us.
'Family Table' will certainly be a favourite of this album for many. Again, it has a significant message about home and family life, with the 'Family Table' at the centre of it all. Indeed, the song describes how this table is the 'cornerstone' of the family home. With its exciting fiddle-solos, this song is a huge highlight!
'My Old Man' is the lead single from this album. Not only is it a highlight, but it is the most personal and poignant song. Telling the story of Zac Brown's own Father, it is a song about the desire for Brown to follow in the examples set by his 'Old Man'. With rich harmonies and a touching violin melody, this song is one of the band's most personal yet.
Whilst 'Start Over' is a punchy tune inspired by Old Americana telling the story of a struggling couple, it is an upbeat number that gets the foot a-tapping! 'Trying to Drive' is an energetic duet between the Zac Brown and pop singer Aslyn. Whilst this is not a new track, with the singers performing this song since 2010, it is a refreshing tune full of countrified guitar solos and soulful harmonies.
The concluding track, 'All the Best' comes from legendary singer-songwriter John Prine. Zac Brown performs this duet with  Kasey Musgraves, who has become one of country music's most popular female artists in recent years. The poignant finger-picking melody leaves the tune ringing in your head for hours.
This album is definitely a move back to Zac Brown Band's roots, both musically and metaphorically. The album features an array of homegrown anthems which will prove popular with their faithful fans. Whilst it s a move back from the increasing genre-bending Nashville scene, this move is certainly not a bad thing. 'Welcome Home' Zac Brown Band!