Opening to a small crowd did not phase the rising star! We take a look back at Frankie Ballard's night at Mandela Hall!

Frankie Ballard has become a rising country music star on both sides of the Atlantic in recent years! On the back of yet another successful album, "El Rio", Ballard brought his show to Europe in April 2017. Like Thomas Rhett in November 2016, Ballard opened his show in Mandela Hall, in Belfast.
Despite the small crowd, both the support act and Ballard himself received a warm reception from Northern Irish country fans!
Opening for Ballard, Bristol-based country-rock duo Foreign Affairs did well to liven up the small crowd. Playing a mix of upbeat crowd-pleasers and slow ballads, the two brothers created a great atmosphere. Highlights included their bluegrass-infused 'Sell my Soul' as well as 'Dead to You', with a fusion of Mumford & Sons and the Lumineers-inspired harmonies. Lead singer Lawrence Purnell's vocals were something else entirely; raw and passionate, his voice was a pleasant surprise to the ears. Adam Purcell's talented guitar playing complimented his brother's voice perfectly. Foreign Affair's are a group to watch out for in the future!
Despite Mandela's small crowd, Frankie Ballard did not disappoint, giving an energetic and enthusiastic performance from start to finish. Despite being a guitar player down, Ballard and his band well and truly made up for it in rhythmic and memorable guitar solos throughout the night. Ballard's rocky persona and cheeky attitude sat well with the crowd, as they lapped up his performance. Some dedicated fans even bought him pints of Guinness! As a thank you, Ballard warmly came off the stage to greet the Belfast fans, shaking hands, giving hugs and happily taking selfies with them all, young and old.
Highlight's of the Michigan man's performance included 'Young and Crazy', 'It all started with a Beer', as well as classics such as 'Folsom Prison Blues', and a rocking medley of Elvis hits Ballard-style. A key crowd-pleaser was 'Sunshine and Whiskey', which he gladly ended by enjoying a sample of Bushmills!
However, the best moment of the night was his closing number 'You could've loved me'. Unusual for country acts, Ballard ended his set with this raw, country-enthused acoustic number. Ballard captured the audience with this passionate performance, and really made his imprint upon the whole crowd.
Ballard's show was a memorable gig –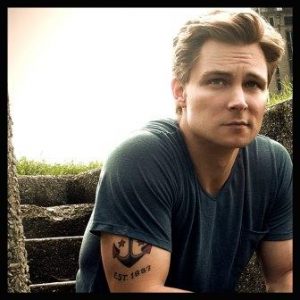 Let's hope that he will make a return to Belfast and be met with a bigger crowd next time!