The last weekend of August 2017 saw Aiken Promotions host and produce Ireland's biggest ever country music festival in both Enniskillen Airport, County Fermanagh and Westport, County Mayo. Showcasing some of the best artists from the world of country, as well as upcoming artists from both sides of the Atlantic, it was a must-see for us at CMNI! Take a peek at what we thought of the first year of Harvest!
Day #1
The first day of Harvest at Enniskillen Airport on 26th August saw an amazing line-up! With local star Cliona Hagan kicking the day off with a fun-filled set on Main Stage, it helped to set up the mood for the rest of the day!
While there were was so many talented artists, we couldn't possibly see them all! However, some of the highlights for us included many of the Main Stage artists.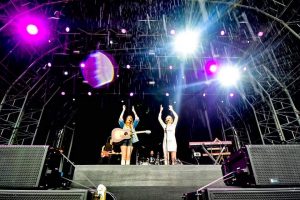 Ward Thomas impressed us with their heavenly harmonies, sisterly charisma and the enthusiastic performance of their backing band. Our favourite tracks from their set most certainly was 'Cartwheels' and 'Guilty Flowers'.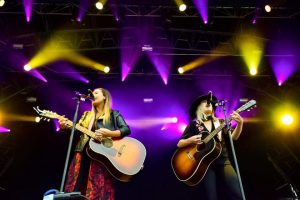 Up next was American duo Maddie and Tae. Out of the many acts performing over the weekend, these girls were the most comfortable chatting to the crowd of country fans, introducing songs with friendly humour and enthusiasm. Crowd favourite 'Girl in a Country Song' went down a treat with the crowd, despite the short shower of rain during their set – it is Northern Ireland after all!
Country Music legend Charley Pride was next to grace the Main Stage, opening up with hit songs 'Is Anybody Goin' to San Antone' and 'Chrystal Chandeliers'. Pride was, still and always will be a legendary entertainer with people of all ages, both young and old!
CMNI were also impressed with Mo Pitney's set at the Vicar St Stage. A lively set full of charm and charisma, Pitney entertained the marquee despite the ground being sodden with mud all weekend! Highlights included 'It's a Boy and a Girl Thing', 'I Met Merle Haggard Today' as well as his closing song 'Country'.
Closing Saturday at Harvest Enniskillen was award-winning Texan Miranda Lambert. Despite suffering from vocal issues at the end of a hectic European Tour, Lambert still gave a memorable performance. Whilst clearly showing emotional frustration from her illness, Lambert performed classics 'The House That Built Me', 'Highway Vagabond', 'We Should Be Friends' and 'Tin Man' beautifully.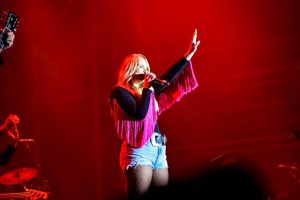 Our highlight of her performance was the fun-filled and lively 'Pink Sunglasses' which revved the crowd up. The crowd were clearly grateful for Lambert's efforts to put on a  memorable show, despite feeling ill – let's hope Lambert will return to the Emerald Isle soon!
Day #2
Sunday of the Harvest Festival was another fun-filled day. Whilst Saturday had a better balanced lineup, there were still many highlights. Donna Taggart opened the festival up with a stunning performance, attracting large crowds. The Roadhouse Stage hosted amusing dancing sessions, with Barry Kirwan putting on a jivetastic performance!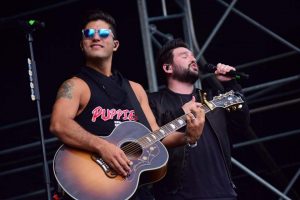 Next up was singer-songwriting duo Dan+Shay. These guys were a clear hit with the ladies of the crowd, drawing one of the bigger day time crowds, filled with a legion of diehard fans! Highlights included '19, You and Me' as well as 'From The Ground Up'. The duo pleased the crowd further with an announcement of both Belfast and Dublin dates in December 2017. Definitely a must-see!
Jarrod Dickenson impressed the Vicar St Stage with his folk-inspired melodies and soulful songs, including 'Rosalie' and 'California'. Dickenson will be returning to Northern Ireland, when he will play the Belfast Empire on 22nd October 2017.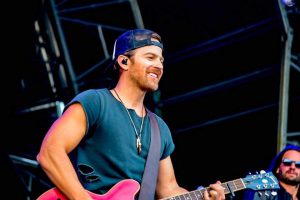 A huge highlight of the whole festival was the arrival of bro-country star Kip Moore. With an energetic performance of hits including 'Somethin' Bout a Truck', 'I'm to Blame' as well as 'Wild Ones', Moore was lapped up by the crowd, creating one of the best atmospheres of the whole festival!
Local legend Nathan Carter was next to the Main Stage to close the festival! Drawing the biggest crowd of the festival, the star and his large backing band entertained the crowd throughout the whole set of dancing numbers and powerful ballads.The singer clearly enjoyed playing to a home audience, jokingly breaking the curfew by a few minutes!
Overall, Harvest Country Music Festival had a great first year! Roll on Harvest CMF 2018!