Ashley Monroe has released another song – 'Wild Love' – from her forthcoming album 'Sparrow which is due out 20th April.

After releasing her Grammy-nominated LP The Blade in 2015, Ashley Monroe started writing songs that realised themselves in unexpected ways – nudged loose after working through trauma and turmoil from her childhood. "I was unpacking a lot of stuff," she says. "I was singing, and identifying what it's like to be left. No one told me what I should do, back then, when the world started to crumble."
Monroe lost her father when she was young, and the experience was a challenging road for her and her mother, both grappling with their new roles in the world in his absence. And through the songs of Sparrow, produced by Dave Cobb, Monroe tuned these experiences into moody, orchestral masterpieces that explore all sides of a fully formed woman unashamed of her scars – the maternal tendencies, the childlike wonder, the sultry moments behind closed doors.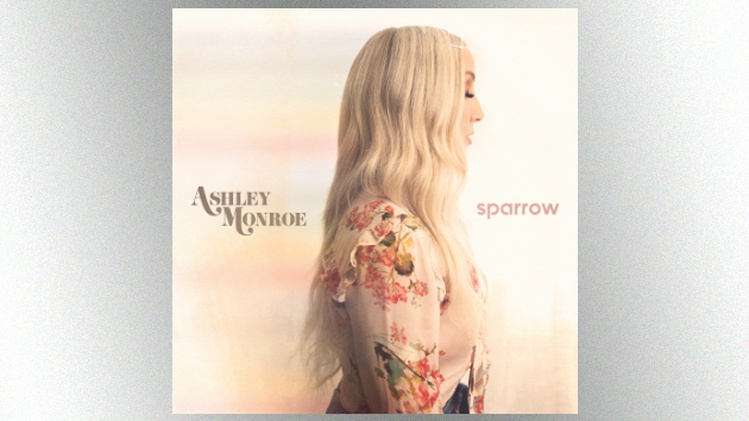 Working with some of her closest collaborators, like Brendan Benson and Waylon Payne, Monroe recorded Sparrow with Cobb in the legendary RCA Studio A while she was pregnant with her son. "I felt powerful," she says. "I wasn't puffing, I wasn't drinking wine, I was just singing." Laced together with lush strings, and evocative, echoing guitar sounds as much Chris Isaac as they are Glen Campbell, these songs transcend genre, always anchored in Monroe's crystal-clear twang. Cobb, known for his work with Jason Isbell, Brandi Carlile and Sturgill Simpson, helped guide Monroe to let her voice, and her words, do the leading.
"Country music is a wide genre, and that's OK," Monroe says. I don't even know what genre this record is, but I know it's me." Sparrow is the follow-up to the Grammy-nominated The Blade, with the masterful Like a Rose before it. Through those records, and her work as a member of the Pistol Annies with friends and frequent co-writers Miranda Lambert and Angaleena Presley, Monroe has established herself as one of Nashville's finest songwriters, able to conjure emotion in unexpected ways and to always find the humanity just beneath the surface. Sparrow continues this tradition, tender and true, in songs that not only provide healing to Monroe, but healing to the listener, too.
"I feel like there is a fresh start in my life right now, and clean slate," Monroe says. "I am so proud of this record, and I want my son to be proud of me, too." It wasn't always easy, and it took a lot of work to get here: to the insight of "Paying Attention," to the brutal truth of "Orphan" and the dramatic pining of "Wild Love." It took a lot of labor, but Monroe isn't trying to leave the past behind – she's trying to use it as part of her story, and to keep growing without its reins around her.
Find Ashley Monroe on: Facebook – Instagram – Twitter – Spotify – Apple Music – Website