This past weekend saw the beginning of "Nashville in Belfast", a week long celebration of the sister cities of Belfast and Nashville. We take a look back at Kristian Bush's amazing solo set at the Ulster Hall, with support from Brian Pounds!
Belfast City Council's "Nashville in Belfast" festival got underway over the weekend. On Sunday night, Kristian Bush's first solo show in Belfast since 2013 got underway, with the amazing support Brian Pounds playing to the packed out crowd!
Highlights of the Texas singer-songwriter included "Death of Me", as well as "Keep My Hands to Myself". The musician was clearly in awe of not only the sounds of the venue, but also the crowd, who he held in the palm of his hands from the beginning. Brian Pounds blew us away, and we hope he makes a trip back very soon!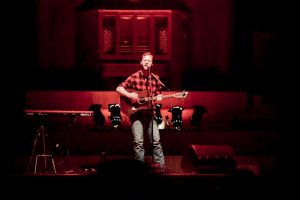 Next up was Sugarland's Kristian Bush – the country star had only recently visited these shores, performing with his Sugarland bandmate Jennifer Nettles at the C2C festival in Dublin, Glasgow and London. However, Bush was back to Belfast for his first solo show here since 2013. Opening on his own with Sugarland hit "Stuck Like Glue", the charming performer had the crowd "Stuck Like Glue" and focused from the beginning. Accompanied by his talented brother Brandon, Bush played many of his own solo material, with highlights including "Trailer Hitch", "Flip Flops" and "Giving it Up".
Whilst Bush's performance was full of many comedic moments, including the chemistry between the two brothers, Bush also addressed Northern Ireland's past political difficulties, using his song "Walk Tall" to provide a message of resilience for the crowd.
Closing with Sugarland's big hit "All I Want To Do" completely solo, Bush ended his performance on a high, solidifying his status as a talented songwriter and performer. It was certainly not to be missed, and we can't wait for him to return to these shores once again!