CMT Music Award-Nominated Duo Follows Up No. 1 Hit with "Beers to Catch Up On"
Chart-topping Country duo, LOCASH have shared "Cloud of Dust (feat. The Gronkowski Brothers)." Striking up a friendship while quarantined, LOCASH and the football-loving Gronkowski brothers wrote the song while hanging out at Chris Lucas' (of LOCASH) house. In conjunction with the song's release,
The Gronks shared a video on their YouTube Channel last night which shows how the song was written and gives viewers a behind-the-scenes look at the recording of the song. Check it out HERE. The track itself is now available everywhere digitally HERE.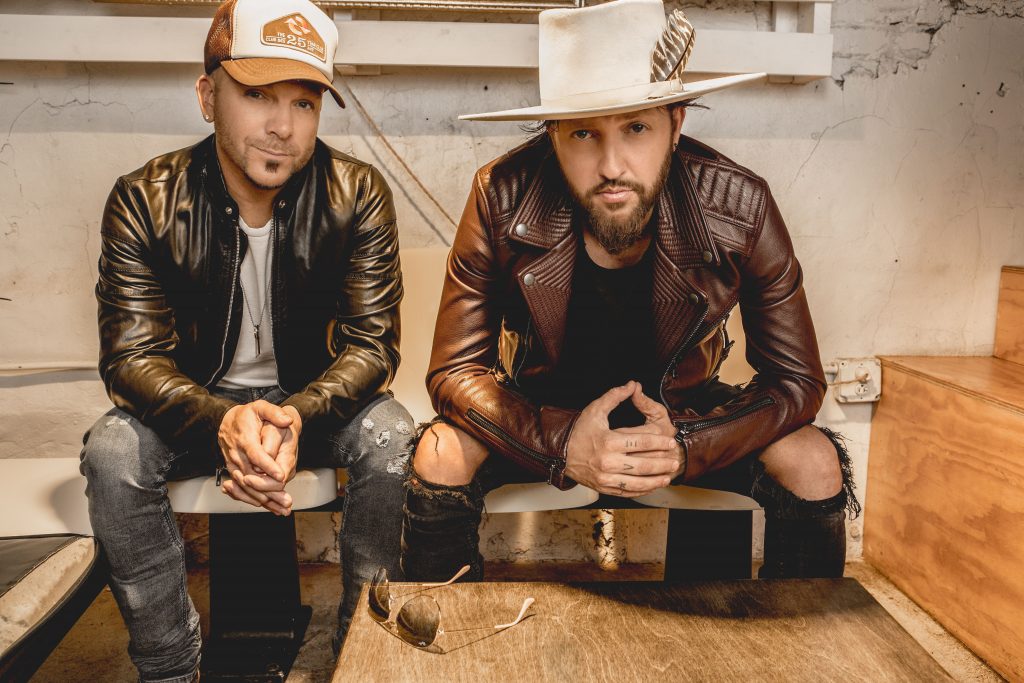 Kicking off with a banjo and a "chug!" chant, the song launches into a head banger complete with 80s electric guitar. The song offers a big more edge than we're used to from LOCASH, who are experts at crafting party anthems, with this one taking the good times to a whole new level. Infusing landmarks from the town where Chris, Dan, Glenn, Gordie and Rob Gronkowski grew up, the song reflects the fun-loving brothers affinity for a good time and reputation for partying hard.

"I'm not sure there is a group of brothers that know how to throw down more than The Gronk Brothers—they were the perfect pick to help us finish this song," said Preston Brust (of LOCASH). "Not only did they add their infectiously, energetic golden Gronk touch to the lyrics but they also rocked some vocals on the track and made the song feel and sound like a big anthem!"

"We've been getting to know Rob outside of the spotlight and the touchdowns and he is an awesome guy—meeting his brothers and getting to work with them was such a fun, creative experience," said Chris Lucas (of LOCASH). "It was also such a natural fit to collaborate with them, because our last album is called Brothers and it's all about coming together and that brotherly bond."
Hot off their No.1 smash "One Big Country Song," which earned the pair a nomination for CMT Music Awards "Duo Video of the Year," LOCASH appeared on the Coffee, Country & Cody show Tuesday morning to talk about their latest single "Beers to Catch Up On" as well as their WSM at 95 special, which aired yesterday (14/10) on WSM radio.
"Cloud of Dust" was written by: Preston Brust, Chris Lucas, Dallas Davidson, Blake Bollinger and The Gronkowski Brothers.
LOCASH will appear at next week's Country Music Week Digital event, as part of the BBR & BMG Showcase, also featuring The Shires, Granger Smith, Elvie Shane and Track 45 at 8pm BST on Saturday 24th Oct.
For more information about LOCASH, visit: http://www.locashmusic.com/
ABOUT LOCASH:
Creating a sound that fuses modern Country and classic heartland rock with an edgy vocal blend, Wheelhouse Records' LOCASH is the Country music duo made up of singer-songwriters Chris Lucas and Preston Brust; natives of Baltimore, Maryland, and Kokomo, Indiana, respectively. With two albums and eight charting singles to their credit, LOCASH broke out in 2015 with their gracious GOLD-certified hit, "I Love This Life," followed by the flirtatious GOLD-certified #1 smash, "I Know Somebody" – their first trip to the top of the Country radio airplay charts – and 2017's fun-loving romantic anthem "Ring on Every Finger." All three singles were part of their album, THE FIGHTERS, which was released in the summer of 2016 to Top 15 success. In 2017, they earned their first round of awards show recognition, nominated at the ACM Awards for New Vocal Duo or Group of the Year, the CMT Music Awards for Duo Video of the Year ("I Know Somebody"), and the CMA Awards for Vocal Duo of the Year. The 2019 ACM Duo of the Year nominee released their latest album (and first with their new label BBR Music Group/BMG), Brothers on March 29, 2019. The follow up to their #1 single "One Big Country Song," "Beers to Catch Up On" is out on Country radio now.
Twitter / Instagram / Facebook

ABOUT THE GRONKOWSKI BROTHERS:
The fun-loving and hard-working Gronks – Gordie Jr., Dan, Chris, Rob, and Glenn – have pushed themselves to become elite athletes as well as entrepreneurs, fitness experts, and media personalities. Each week, the rambunctious and competitive boys bring subscribers into their entertaining lives by posting original video content showing everything from their infamous workouts, insane obstacle competitions, and sports showdowns to collaborations with YouTube stars, charitable events, and appearances.
Bro 1 Gordie Jr.: After a long baseball career, he now is one of the leaders of G&G Fitness/Gronk Fitness, and 5 Pro Nutrition. He may be the oldest, but he remains a kid at heart.
Bro 2 Dan: A former NFL tight end who now runs marketing for Gronk Fitness, in addition to being involved with several other businesses with his brothers and family. As a father of three, he is kept occupied by his three little Gronks, and enjoys playing hockey and skiing with free time.
Bro 3 Chris: First made a career as an NFL fullback before becoming a successful entrepreneur with several different enterprises, including the Shark Tank-winning Ice Shaker.
Bro 4 Rob: Cemented his legacy as the greatest tight end in history with three Super Bowl championships and is one of the most magnetic personalities on and off the field.
Bro 5 Glenn: The youngest, he is known for winning a Super Bowl with Rob as well as being the biggest prankster in the group.