On the 24th of March Nathan Carter will return to the SSE Arena in Belfast, this time he's bringing along a few special surprises. Not only will his wee brother on stage with him, but legendary bluegrass group Hayseed Dixie' will also be performing at the event.  Hayseed Dixie, who played the Belfast Empire last night are an American band which began in 2001 with the release of their first album, A Hillbilly Tribute to AC/DC. The band performs a mixture of cover versions of hard rock songs and original compositions in a style that is a unique fusion of bluegrass and rock music and they are acknowledged as the creators of the musical genre "Rockgrass". The band's name is a linguistic play on the name of the band AC/DC.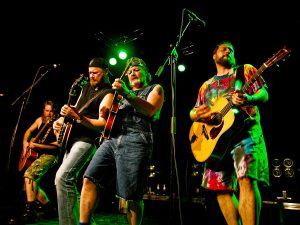 Here's the guys take on their humble beginnings…"Hayseed Dixie began one innocent summer day in 2000 when John Wheeler aka Barley Scotch and his pal, dobro and pedal steel player Mike Daly, drank roughly enough whiskey to float a battleship from the Florida Coast over to Portugal and back and decided to play around in John's East Nashville studio. Having spent the previous few years touring around with assorted country hat-acts, John had assembled a proper pile of recording equipment and also a heroic collection of Bourbon and Scotch. Thus when he and Mike discovered in their drunken epiphany that the Lost Highway of Reverend Hank Williams and the Highway To Hell of Bishop Bon Scott were indeed the same identical stretch of tarmac, they were well and truly prepared to document this historic revelation in situ."
ast forward through 17 years, 14 further albums – consisting of both original songs and reinterpretations –  and over 1,300 live shows, and Hayseed Dixie have evolved into a proper force, one that some people deeply love, other people truly hate, and quite a lot of people have never heard of. Such is the life of a cult band. Hayseed Dixie are the undisputed creators of the musical genre, Rockgrass.