Straight from one of his most successful album to date, 'Vaquero' (2017) and the release of latest country radio single 'Run Wild Horses', Aaron Watson has announced his latest tour of the UK this September, headlining shows in Glasgow, Manchester, London and The Long Road Festival in Leicestershire. Having played over 2,500 shows in his fifteen-year career as an independent artist, with nearly half a million headline tickets sold in the last 18 months, Watson has made it a priority to tour internationally and visit fans in the UK, Europe and worldwide since his previous record. We'd be keen to see him back in Ireland!
'Vaquero',  released in 2017 from independent country artist Aaron Watson debuts in the Top 10 on the Billboard Top 200 Albums chart with his biggest career sales week to date, and #2 on the Top Country Albums chart with 39,000 equivalent album units in total consumption. 'Vaquero' landed at #1 on Billboard's Independent Albums chart across all genres. The singer-songwriter, with his groundswell of loyal fans, opened at #1 on iTunes Country Albums chart and has continued to stay perched in the top spot consistently for over a week. As momentum of the release increased over that week, Watson also soared to #1 on the iTunes All-Genre chart. Following his UK & Ireland tour in January 2017, 'Vaquero' also hit the Official UK Independent Chart and landed at #6 on the UK's Official Country Chart.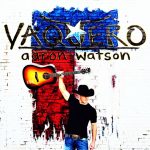 Watson made history in 2015 when his 10th studio album The Underdog hit #1 on the Billboard Top Country Albums chart (26,000 albums sold), making him the first-ever independent, male country artist to debut in the coveted top spot.
"Above all, he is authentic. What you see is what you get. At a time when everyone and everything seems overly marketed, when we're being constantly manipulated and sold to, the music of Aaron Watson can be awfully appealing. There's no gimmick, no pretension, there's certainly no irony." – Texas Monthly

"Watson's knack for shaping sharp, hooky choruses makes this eleventh edition to his catalog not just a worthy complement to 'The Underdog,' but a textbook example of his talents in a genre overflowing with shapeless, cookie cutter 'bro country,' little of which is half as enjoyable or well-crafted as the majority of 'Vaquero'." – American Songwriter
"…the most sprawling work Watson has ever done, blending country-rock, R'n'B-tinged love ballads, backwoods stories, an epic instrumental track and traditional country twang with ease." – Austin American Statesman